---
Pets are part of the family. Not only would any pet owner want to keep their beloved canine or feline companion in top physical condition, but simply keeping one's pet healthy also happens to be one of the simplest ways to avoid any expensive trips to the vet. No pet ever wants to be cooped up in a cage. As much as you would want to protect them, the healthiest thing you can do for your pet is to allow them the freedom to explore their environment. Unfortunately, this may end up exposing your pets to harmful pathogens, such as mold, germs, bacteria, and other external threats. The good news is that there are natural ways to boost your pet's defenses.
Disclaimer: This article contains links to lab-verified colloidal silver solutions that help support our investigative journalism and publishing platforms. Every purchase helps us stay online and active, bringing you critical information and health and healing that's almost universally banned by the evil tech giants. Thank you for your support.
You may have heard of the incredible capabilities of colloidal silver. What you might not know is that colloidal silver can also provide immune-boosting benefits for cats and dogs alike. Colloidal silver is a substance created by suspending pure elemental silver in distilled water. People have traditionally used this health-promoting liquid for medicinal applications since the earthly 20th century. In moderate doses, colloidal silver can be safely administered to cats and dogs in the form of a dietary supplement, and it can even promote great oral and immune health for your pet. (Related: The Health Benefits of Colloidal Silver.)
Health benefits of colloidal silver for pets
Colloidal silver works by targeting the enzymes of pathogens in your pet's body. This weakens the pathogens since they need their enzymes to metabolize oxygen. Without their enzymes, the pathogens cannot survive. The best part is that, when used correctly, colloidal silver will not have any negative effects on your pet's health. It can even provide your pet with a number of health benefits, such as:
Supporting the healthy function of your pet's immune system – Colloidal silver is a potent liquid that has been used in many traditional medicines since ancient times. Just as it can support the healthy function of a person's immune system, colloidal silver can do the same for your pet.
Promoting the healing of your pet's minor cuts, wounds, and scratches – One of the quickest ways to speed up your pet's recovery from a wound is to use colloidal silver. When applied topically as a spray, colloidal silver is soothing to your pet's tissues, and unlike other antiseptics, it will not cause any burning or stinging sensation.
Protecting your pet against external threats – Giving your pet the right amount of colloidal silver in the form of a dietary supplement can support your pet's immunity. This can offer your pet an extra layer of protection against harmful pathogens and environmental threats.
Supporting your pet's overall health and well-being – A healthy pet is a happy pet. You can use colloidal silver as a daily preventive health supplement to naturally bolster your pet's overall health and well-being without any harmful side effects. It can even enhance your pet's vitality.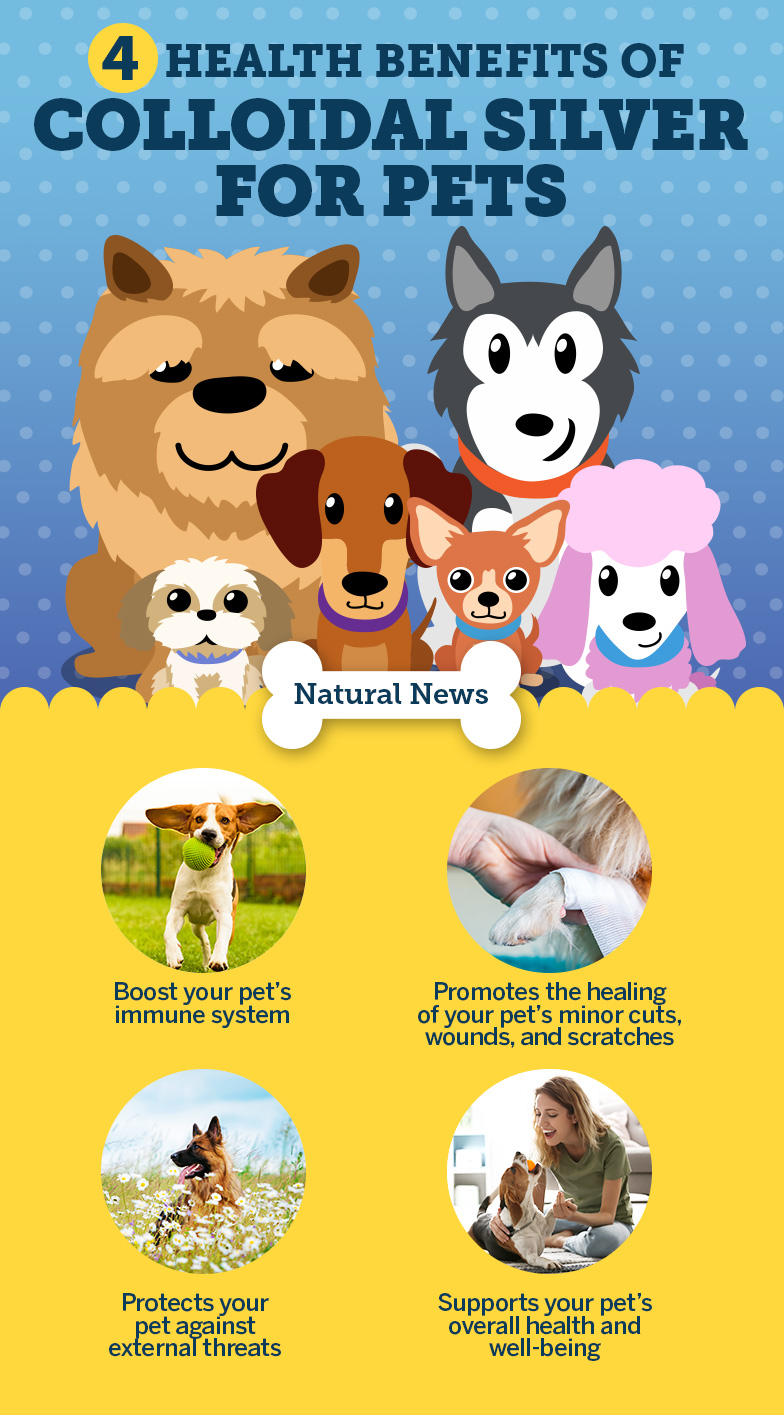 If you're looking for a high-quality colloidal silver dietary supplement for your pet, you can give your cat or dog an added layer of protection with Health Ranger Select Colloidal Silver Immune Booster for Pets. Made with pure colloidal silver at 15 parts per million (PPM), our immune-boosting formula is virtually odorless, tasteless, non-toxic, and is safe for all pets. For dogs with itchy, sensitive skin, we also have Health Ranger Select Colloidal Silver Hot Spot Treatment for Dogs. This soothing pet spray contains a potent blend of skin-nourishing ingredients to alleviate minor skin irritations.
Sources include:
Submit a correction >>