09/24/2019 / By Kristine Payne
---
Honey has been utilized as both a superfood and natural remedy for thousands of years. In fact, cultures around the globe recognize it for being an amazing healing treasure. However, the overall potency of honey can vary greatly depending on several factors, including the brand, the type of honey, the bees that make it, and even the plants used to create the honey. Manuka honey is considered the most potent honey in the world. It comes from bees that pollinate the Manuka bush, a plant found along the East Coast of Australia's pristine bushlands and forests, and throughout New Zealand. If you want a healthy way to indulge your sweet tooth, use Manuka honey as a healthier alternative to artificial sweeteners and regular sugar.
Disclaimer: This article includes a link to a lab-tested, potency-verified Manuka honey solution that helps support this publisher. While the toxic mainstream media is funded by dangerous pharmaceuticals and disease-promoting junk food, this publisher is funded by safe, nourishing superfoods and nutritional solutions. We thank you for your support.
What makes Manuka honey unique is its high levels of naturally occurring methylglyoxal (MGO). This component of the Manuka flower's nectar is believed to give Manuka honey its health-promoting benefits. The higher a honey 's MGO rating, the better its quality. The impressive MGO rating of Manuka honey means that its beneficial properties are much more potent and stable than those of regular types of honey. (Related: Everything you need to know about manuka honey.)
Health benefits of Manuka honey
With its unique healing properties, Manuka honey is truly one of the most potent and beneficial forms of honey in the world. When taken regularly, Manuka honey can offer a surprising number of health benefits for your body.*
Supports healthy digestion: Consuming one to two tablespoons of Manuka honey a day can support a healthy gut and digestion.
Extremely high in antioxidants: Manuka honey is rich in antioxidants, which provide protection against harmful free radicals. Some of the potent antioxidants found in Manuka honey include organic acids and phenolic compounds like flavonoids.
Supports good oral health: It wouldn't hurt to add a dollop of honey to your natural toothpaste. Manuka honey supports optimal oral health by helping protect your mouth from external threats.
Supports the body's natural elimination of toxic elements: Manuka honey is an excellent natural chelator. You can support your body's natural ability to eliminate toxins by regularly drinking a mixture of Manuka honey, warm water, and lemon juice.
Supports healthy immune function: With the high levels of MGO found in Manuka honey, its natural immune-boosting capabilities exceed that of regular honey. Regularly taking Manuka honey can help your body defend against seasonal and environmental threats.
Boosts vitality and energy: Manuka honey has a nutrient-dense profile that helps boost your vitality and supports healthy energy levels. Add a little Manuka honey to your breakfast to jumpstart your day.
Promotes healthy skin: The skin-nourishing qualities of Manuka honey can help maintain youthful skin tone and texture. You can even apply a small amount onto your skin to soothe mild acne and minor skin blemishes.
Relieves occasional sleeplessness: Manuka honey supports deep, restful sleep. Add some manuka honey to your warm beverage of choice before bedtime to help relax your body.
Supports the healing of minor wounds, burns, or scratches: Since ancient times, manuka honey has been used as a natural remedy for minor cuts, wounds, burns, and scratches. Its beneficial antioxidant properties facilitate the body's natural healing process.
* Disclaimer: Products made from manuka honey are not pharmaceutical drugs approved by the FDA. They are not intended to diagnose, treat or prevent disease.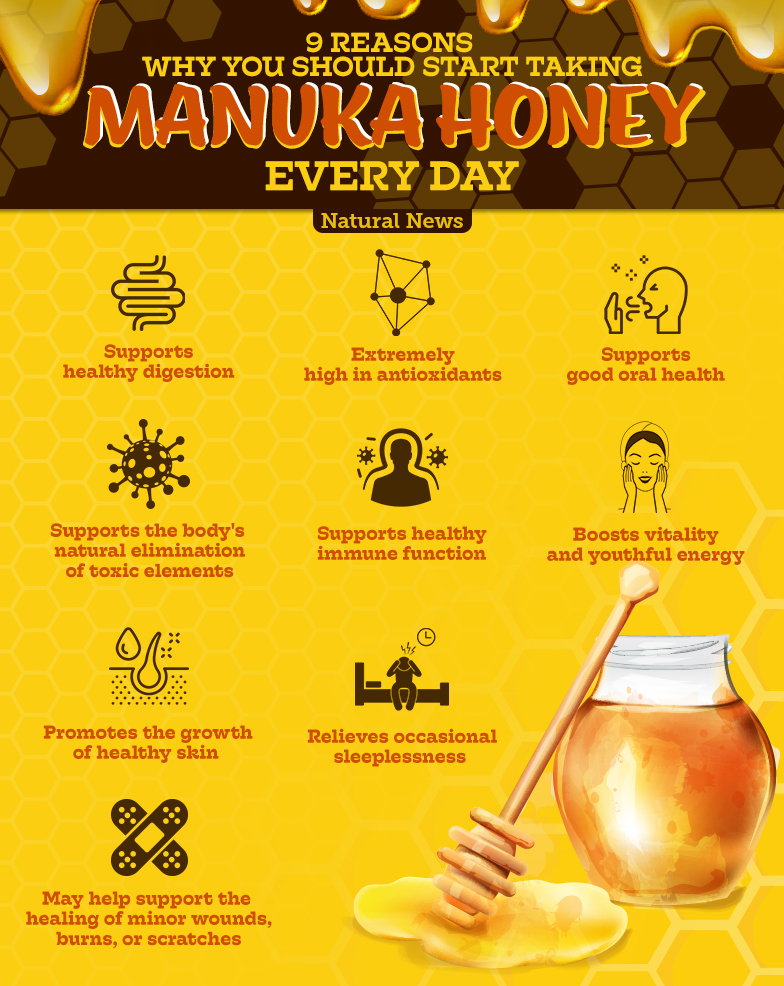 To experience the full benefits of Manuka honey, make sure to only acquire Manuka honey from trusted sources that rely on laboratory verification for accurate labeling and guaranteed levels of potency. Health Ranger Select Premium Manuka Honey rates at least 514 in methylglyoxal (MGO) and 15 in NPA or Non-Peroxide Activity. Use it as a natural sweetener for all your favorite snacks and desserts to boost your daily intake of antioxidants and health-promoting compounds. With this versatile superfood, you'll never go back to regular honey again.
Sources include: