---
Many people consider turmeric (Curcuma longa) to be the most powerful herb on the planet. Others may even argue that it could potentially be the most effective nutritional supplement to ever exist. Such claims are not unfounded. This ancient super spice has been used in India for thousands of years not only for its exotic flavor, but also for its medicinal properties.
Disclaimer: This article contains links to lab-verified, heavy metals tested turmeric products that help support this publisher. While most turmeric in the marketplace is contaminated with lead, we use ICP-MS elemental testing to find the cleanest turmeric production lots in the world. We reject 80% of the turmeric we source and only use the cleanest 20% that passes our strict standards for heavy metals, microbiology and glyphosate testing. Your support is greatly appreciated.
Years of research have gone into exploring this herb's incredible health benefits, making turmeric one of the most studied botanicals in modern science. These health benefits have been backed by scientific evidence time and time again, especially those tied to one of its most renowned healing compounds – curcumin.
Curcumin is the main active ingredient found in turmeric, and it possesses powerful antioxidant properties that can combat oxidative stress and promote overall health. This natural compound is responsible for many of the potent health benefits of turmeric. (Related: 5 Evidence-Based Benefits of Turmeric and Curcumin.)
Health benefits of consuming turmeric*
Turmeric is often added to curries and other dishes, but it is so much more than a regular spice. Many people frequently take turmeric for its various health-promoting properties. If you haven't tried turmeric yet, here are a few good reasons why you should start including this powerful herb in your diet:
Turmeric is packed with essential vitamins, minerals, and much more. When it comes to nutritional content, turmeric is an excellent source of essential nutrients, such as iron, zinc, calcium, potassium, manganese, phosphorous, curcuminoids and vitamins B1, B2, B3, and C.
Turmeric supports healthy glowing skin. Turmeric can often be found as an ingredient in many cosmetic products. It can provide a host of beneficial nutrients, which promote the growth of healthy, glowing skin. You can try using a turmeric face mask to bring out your skin's natural glow.
Turmeric supports healthy bones and joints. According to recent studies, curcuminoid-rich turmeric is able to support healthy bones and joints.
Turmeric may support your sensible weight loss goals when accompanied by healthy diet and exercise. Turmeric supports a healthy digestive system and metabolism. When coupled with healthy lifestyle choices, adding turmeric to your diet can help you reach your fitness goals.
Turmeric supports healthy cholesterol levels that are already in the normal range. You can regularly take turmeric tea or supplements to help you maintain healthy cholesterol levels in your body that are already in the normal range.
Turmeric supports the body's natural elimination of toxic elements. Turmeric is a natural detoxifier and may be able to support your body's natural ability to clear toxins.
Turmeric can lift mood and reduce irritability. Eating your favorite foods can make you feel a lot better, but turmeric can take this a step further. Research has shown that curcumin can help uplift your mood and reduce irritability. This active ingredient can also help you relax, calm your emotions, soothe away tension, and relieve restlessness.
* These statements have not been evaluated by the Food and Drug Administration. This product is not intended to diagnose, treat, cure, or prevent any disease.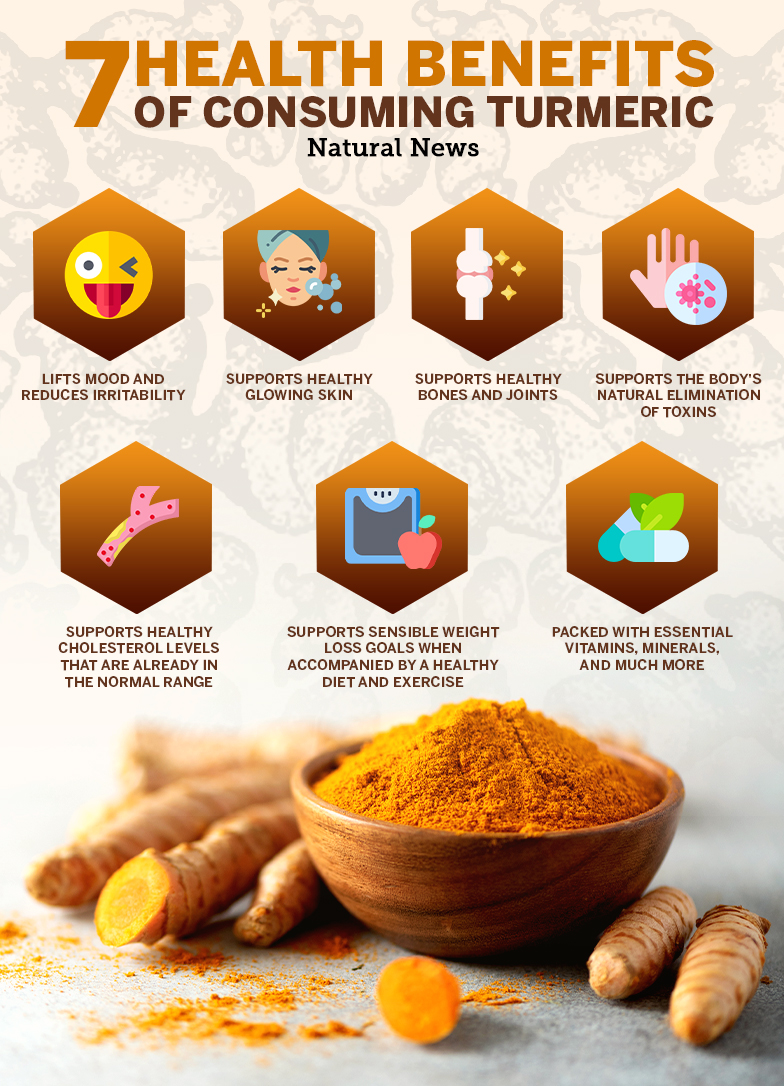 The Combined Potency of Black Pepper and Turmeric
Turmeric contains a renowned healing compound called curcumin that possesses powerful antioxidant properties. As for black pepper, around 5% of it is composed of the active phenolic compound piperine. It might not sound like much, but if you add even just a pinch of black pepper to turmeric, it can substantially boost the bioavailability of curcumin.
Piperine has a two-fold effect on curcumin. First, it makes it easier for curcumin to pass through your intestinal walls and into your bloodstream. At the same time, it helps slow the breakdown of curcumin in the liver, greatly enhancing and retaining its overall potency when it reaches your bloodstream. You can take the potency of this combination a step further by making your own organic turmeric paste.
Buyer beware: Most turmeric products on the market are contaminated with lead. Don't risk your health on low-quality, contaminated forms of turmeric. Knowing where your natural health products come from – and how they are created – is extremely important to avoid potentially harmful contaminants.
Spice up your dishes with Health Ranger Select 100% Organic Ground Black Pepper and Health Ranger Select 100% Organic Turmeric Root Powder. Our lab-verified, freshly ground black pepper and potent turmeric root powder are non-GMO, vegan, China-free, certified organic, and are lab tested for glyphosate, heavy metals, and microbiology. They both contain zero fillers or additives of any kind.
Sources include: